Youth Bowling Programs
Clearview Lanes is dedicated to providing a safe and fun family place for kids of all ages to visit and enjoy the sport of bowling! Our Upcoming Fall 2023 junior and youth league bowling programs will start in September. Beginners are welcome to join!
Our Junior Kids Bowling Program is a fun and competitive league open to all kids ages 7-18. You are divided into two age groups, Prep for ages 7-12 and Juniors for ages 13-18. We provide FREE Coaching during league play as well as individual lessons at no extra cost.
We bowl Saturday mornings at 9:30 AM, with FREE Practice before we begin. Everyone bowls and NO ONE SITS ON THE BENCH! You can build your own team or we will be happy to place you on a team.
Also, Moms and Dads…make sure to look for our Sunday afternoon family twosome programs, which are fun for the entire family! Call 717-653-1818 Today to Register or CLICK HERE to sign up online!
JUNIOR BOWLING LEAGUE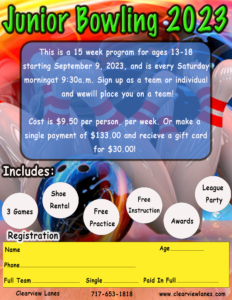 JUNIOR PREP LEAGUE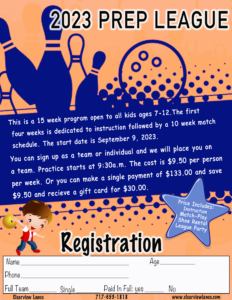 Call Clearview Lanes today at 717-653-1818 to CLICK HERE to get more information or register for our Fun Summer 2022 Bowling Leagues and look forward to bowling every week! Come back out and join the fun!